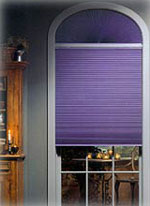 Other Hunter Douglas
Duette Honeycomb Shades

More than a decade ago, Hunter Douglas created a marvelous new window covering called Duette Honeycomb Shades. There are hundreds of beautiful color choices in a variety of pleat sizes to complement any decor. Fabrics that offer distinct degrees of privacy and light shading, from sheer to opaque for complete light control and privacy.

Duette honeycomb shades are as durable as they are beautiful, combining the luxury of soft fabric with remarkable strength and superior performance. They are made of soft textured, woven and non-woven fabrics with crisp, even pleats that trap air for maximum energy efficiency. Duette shades are available in single, double and triple honeycomb designs, a variety of pleat sizes, hundreds of colors and a striking array of distinctive fabrics that provide varying degrees of light control and privacy.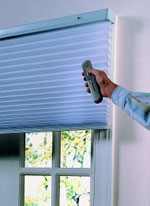 Duette with PowerRise

Hunter Douglas PowerRise is a revolutionary battery operated remote control system that's incredibly simple to operate - with a single press of a button! It's easier than ever to enjoy the convenience of motorization. And because the PowerRise system requires no special wiring, installation is a breeze. In fact, Duette PowerRise is as easy to install as a manual shade!
Simplicity - Just point the sleek remote control toward the infrared eye on the headrail, and press the button to raise or lower theshade. Touch the button again to stop the shade.
Affordability - with few and simple components the PowerRise system is not expensive to own.
Practicality - raise and lower hard to reach shades with ease. Two channel remote provides you with independent control of upper and lower shades.
Beauty - the PowerRise system does not affect the look of the your shades or blinds.
Safety - PowerRise eliminates cords. With built-in Safety Stop, when the shade touches an object in its path, it stops moving.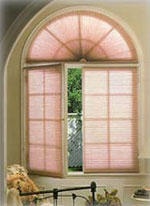 Applause Honeycomb Shades

Applause honeycomb shades are beautiful yet practical, with no visible support cords, holes, or seams. Applause honeycomb shades are available in 3/8", 3/4", and double honeycomb construction that traps air and acts as an insulator to help keep out summer heat and winter cold. Two fabric choices for privacy and light control are also available: translucent fabrics that soften and filter the light, and a blackout fabric that blocks 99 percent of the sun's rays for complete privacy.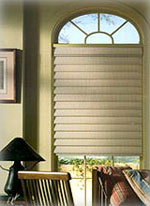 Vignette Window Shades

Vignette Window Shadings transmit a soft glow from outside light while ensuring privacy where you need it and style wherever you choose to use it. Vignette fabrics are specially woven to hold their shape and style indefinately. The textures and feel of the fabrics create a most sophisticated look, as rich- looking as custom drapery.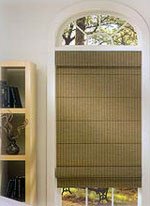 Jubilance Roman Shades

If you delight in a wide range of colors, fabrics, and textures, you've come to the right place. Keeping in mind aesthetic appeal, each shade comes with an attached fabric valance that conceals the headrail and shade when it's raised. Ten-inch panels form contours which stack evenly when you move the shade. There is also a pleasant range of privacy and light control options. You can count on smooth opening and closing every time, thanks to our exclusive gravity-fed cord lock and pulley system.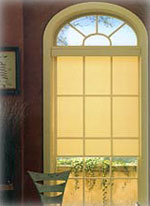 Remembrance Window Shades

Hunter Douglas Window Shades are fine custom window treatments that operate with precision. The shades move easily, starting or stopping with the touch of a cord. A fresh selection of fabric styles also makes these shades unique. From a semi-sheer woven to the softness of cotton to opaque fabrics that let you block the light. To add that special "decorator touch", a variety of decorative hem styles, trims, and valances add more design options.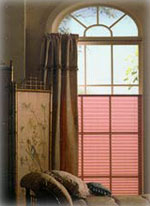 Brilliance Pleated Shades

From contemporary to timeless traditional patterns and subtle solid weaves, there are energy-efficient metallized fabrics that block the sun's rays, as well as special backings for lighter-weight fabrics that will increase privacy and energy efficiency. Product features include: Color Coordinated Hardware - is designed to keep stacking heights to a minimum and requires less mounting depth than any other pleated shade installation bracket. Durable, Proven Cordlock - This cordlock is easy to operate and is the most reliable in the industry. Room Darkening or Privacy Backings - Backings may be layered behind the fabrics for additional light control and energy efficiency. Crisp 1" Pleats - Pleats that retain their shape.
Control Like Never Before

With three more ways to automatically operate your Hunter Douglas motorized shades, control has never been easier.
The Platinum Technology Accessory family provides the ultimate in convenience and peace of mind guaranteed to fit any lifestyle. Control the natural light in your home like never before.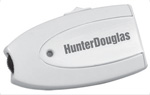 Platinum Technology Solar Energy Sensor

Operates window coverings to maximize energy efficiency. Detects the amount of solar energy entering the home through the window and sends out a wireless signal that automatically opens or closes window coverings to maximize energy efficiency.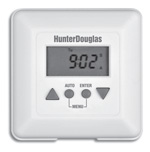 Platinum Technology LCD Timer

Automatically controls window coverings anytime, day or night. Can be set to automatically raise, lower, traverse or tilt a specific window covering or group of coverings at any time throughout the day.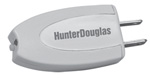 Platinum Technology RF Adapter

Adapts any household outlet to control your window coverings. Used in many applications, such as with a simple off-the-shelf lamp timer, the RF Adapter is a cost-effective solution for automatic operation.